You want to see as much of the Grand Canyon as possible, but you only have a short time to do it, a Pygmy Guides Day Hike is the answer. Venture below the rim with an experienced Grand Canyon guide who will show you what ninety-nine percent of visitors never see or experience. Every step you take towards the Colorado River reveals unique panoramas, new flora and fauna, and ancient geological formations. Taking a day to absorb this immense wonder, will be an experience you won't soon forget. From Bighorn Sheep, to the elusive Backcountry Ranger, those in the know will tell you, a true Grand Canyon adventure lies below the rim.
South Kaibab to Cedar Ridge
Pygmy Guides – Contact Pygmy Guides located in Flagstaff, Arizona for beautiful Grand Canyon hiking and backpacking tours lead by experienced guides.If you're looking for big canyon views, this is the trail for you. During the early days of Grand Canyon tourism an unscrupulous senator used his mining claim for the Bright Angel Trail as a front to charge tourists to hike the canyon. Perturbed by his actions, the Park decided to blow his trail away by blasting the South Kaibab Trail out of the solid rock ridge line that hikers use to this day. Following this open ridge line is what gives such expansive vistas of the canyon and wide open views of the Thrones, Temples, and Buttes. Hike the South Kaibab with Pygmy Guides, you won't be disappointed.
---
Round-trip distance
3 mi/4.8 km
Elevation change
1140 ft/341 m
Difficulty
5 on a scale of 1 to 10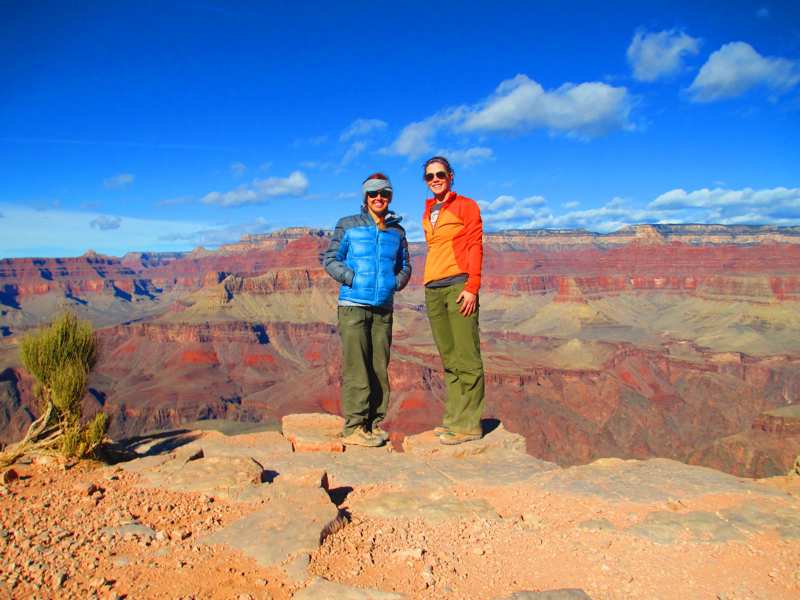 Hermit Trail to Dripping Springs
This trail was the hub of inner canyon travel from 1912 to 1930. Built by Sante Fe Railroad as a route to Hermit Camp, we will follow this historical trail through fossil beds in the limestone and sandstone formations to Waldron Basin. From here, we will continue on to Dripping Springs, a spring that actually drips from the roof of a sandstone alcove, providing water for the surrounding riparian area. Come with Pygmy Guides to visit this lush, cool oasis in the dessert.
---
Round-trip Distance
7 mi/11 km
Elevation change
1700 ft/519 m
Difficulty
6 on a scale of 1 to 10
Bright Angel Trail to 2 Mile Corner
The best know trail in the canyon is a great hike for newcomers. Walking in the footsteps of ancestral puebloans, we will follow the trail through the Bright Angel Fault as they once did. During the hike we will stop to admire striking pictographs (Rock Art) and stunning canyon features, such as, Brahma Temple and Cheops PyramiPygmy Guides – Contact Pygmy Guides located in Flagstaff, Arizona for beautiful Grand Canyon hiking trails and backpacking tours lead by experienced guides. This is the quintessential day hike on the South Rim.
---
Round-trip distance
4 mi/6 km
Elevation change
1531 ft/465 m
Difficulty
4 on a scale of 1 to 10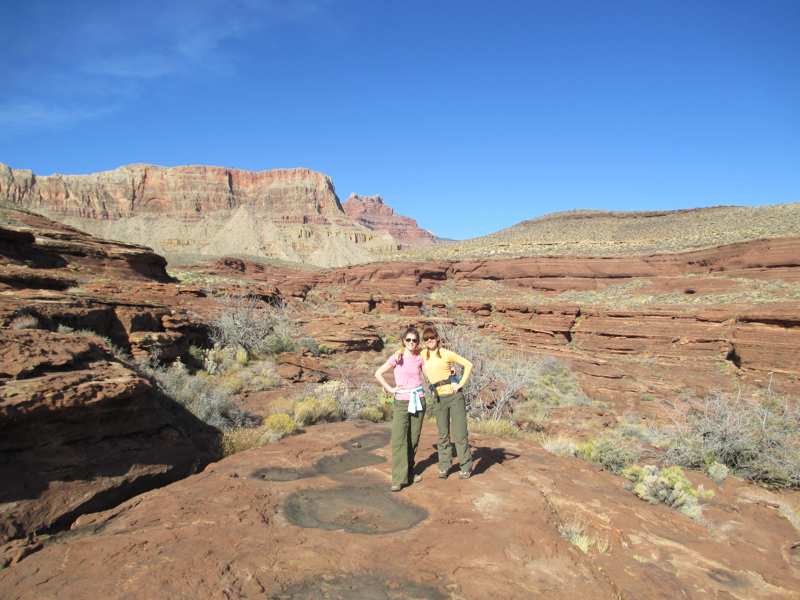 Grandview Trail to Coconino Saddle
Aptly named, this trail does have grand views. From the Colorado River to the Painted Desert on the Navajo Reservations, one can see for more than 100 miles on a clear canyon day. Originally used by native peoples of the canyon, the Grandview Trail as we know it today was built as access to the Last Chance Mine when copper was discovered on the Mesa in 1890. Along with prehistoric sites, much of the old mining operation remains. Come take a walk through history on down the Grandview Trail, and we'll show you why this is a Pygmy guides favorite.
---
Elevation change
1,120 ft/341 m
Difficulty
6 on a scale of 1 to 10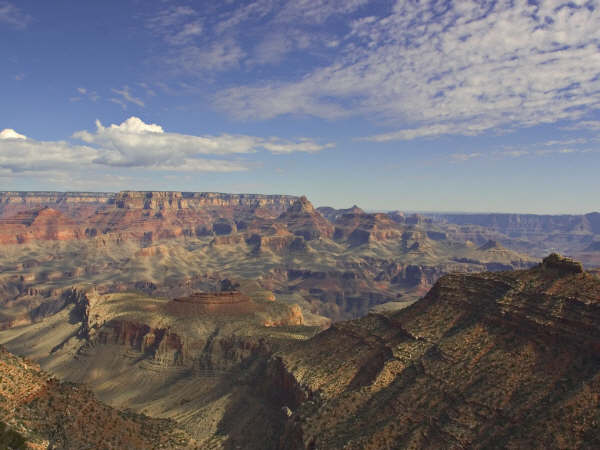 Tanner Trail to 75–Mile Saddle
Looking for a more adventurous day hike, this is the one for you. The Tanner Trail starts at Lipan Point, one of the most spectacular views in the canyon. This prehistoric trail was improved by Seth Tanner in the 1880s to reach mining claims and was at one time part of the Horsethief Trail, which was used by outlaws who brought stolen horses from Utah to Arizona. We will walk this steep eroded trail through limestone and sandstone formations. After relaxing and taking in this awe inspiring view we will begin the quite tedious return up the Tanner Trail.
---
Round-trip distance
4 mi/6 km
Elevation change
1860 ft/576 m
Difficulty
8 on a scale of 1 to 10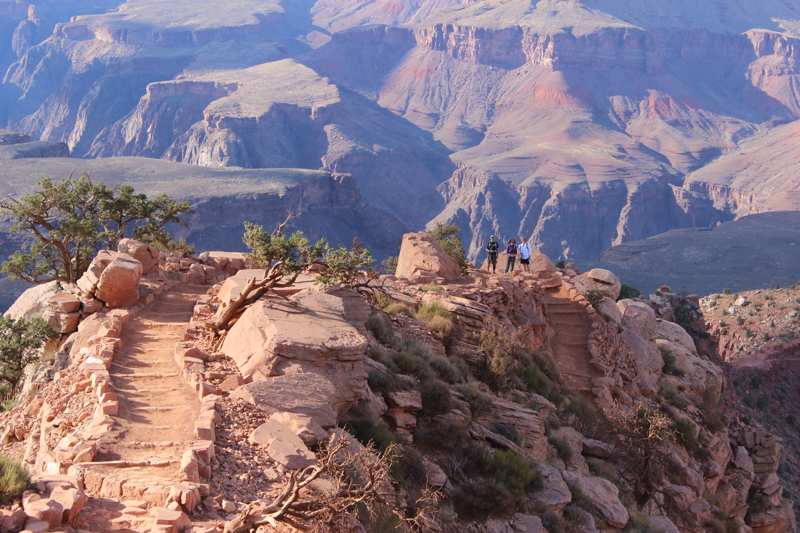 Prices & FAQs
Prices
Private Custom Guided Tours starting at $490 for 2 people. $70 Each additional person up to 7 clients.

Gratuity (8-15% suggested) and 7% AZ sales tax not included.
Group Size
There is a 2 person minimum for day hikes. No max.
Booking a day hike
Day hikes can be booked from 1 day to 1 year in advance.
Cancellation policy
100% deposit is due upon reservation. 50% refund with 48hr notice. No refund for private groups.
Can I join an existing trip?
Anyone can join a trip if there are openings. You can also request a private trip, however, extra fees may apply. Call to inquire about private trips.
Custom Trips
Give us a call, and we'll build up a trip to suite your needs. We provide vegetarian meals or other special preparation upon your request.
Guides
All of our guides have a vast knowledge of all aspects of the canyon, along with medical training and a passion for what they do.
Physical Fitness
Moderate physical fitness is needed for day hikes.
Special Needs
If you or your group have special needs, we will be glad to accommodate you to the best of our ability. Please call us and let us know what we can do to help make a trip possible for you.
Transportation
We will pick you up in Flagstaff, Williams, Tusayan, or your South Rim hotel or campground. Other pickup arrangements can be made for an additional fee. Please call to inquire.
What's Included
Knowledgeable, medically trained guide.
Transportation, a great meal, and a ton of canyon fun.
When to go?
We do day hikes all year-round.