Pygmy Guides is a company founded by Grand Canyon lovers, who spent over a decade living in and exploring Grand Canyon National Park. Whether we are guiding you through the depths of the Grand Canyon, or unveiling stunning vistas from the rim, Pygmy Guides will reveal the Canyon's secrets from experience that can only be gained by living within this vast wonder.
Pygmy Guides holds all necessary permits to operate within Grand Canyon National Park, as well as auto and liability insurance as required by the National Park Service. We are recognized by the state of Arizona as a registered LLC and the proud founders of our company.
All guides are required to posses updated CPR and Advanced First Aid as required by NPS. Pygmy Guides LLC requires all of are overnight backpacking guides to carry a valid Wilderness First Responder or Wilderness EMT, as well as comprehensive knowledge of the Grand Canyon region.
Remember, when you come to the Grand Canyon don't let a true canyon experience pass you by. Our priority is providing you with a fun, safe, and fulfilling canyon experience.
Meet The Guides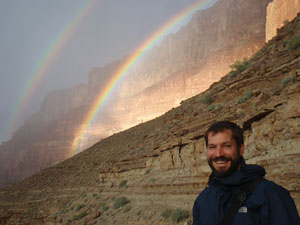 Matt Rehm
Matt grew up in eastern Pennsylvania and moved to Arizona when he was 20. His first backpacking trip in the Grand Canyon was truly a life changing experience. Over the next several years he backpacked over 50 solo trips and has guided plenty more.
With a great love for the outdoors he enjoys kayaking, rock climbing, mountain biking and has competed in Iron Man Arizona 2009. Matt is WFR certified and practices leave no trace ethics.
Matt has said, "The Grand Canyon is where I work and play, it's where I go for my solitude, it is my church."
Chris Updike
After growing up in Cincinnati, Ohio I was fortunate enough to move to Flagstaff in 1998 to attend Northern Arizona University. Less than two years later I made my first backpacking trip into the canyon and have been in love ever since. I have spent the last decade "hiking for dollars" conducting research for NAU's School of Forestry and for the USGS's Grand Canyon Monitoring and Research Center. Recently, I returned from a two and a half year hiatus in the Paraguay with the Peace Corps. Since then I have been working for Pygmy Guides and now that I can call the Canyon my office, I can't imagine it any other way! While the hiking and backpacking are my passion I also am an avid skier and teach skiing for Arizona Snowbowl during the winter. Currently, I live with my wife Marissa in Flagstaff and we are expecting our first child this fall.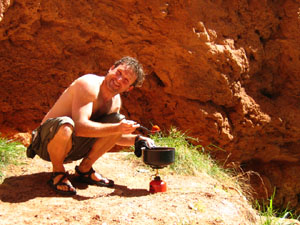 Rob James
Rob James was born and raised in Mississippi. As a child he traveled throughout the West, visiting many of it's National Parks with his family. This is where his love of the west began.
After receiving his Bachelor of Science degree in Education from Mississippi State University, he headed west to Montana. He spent most of his days backpacking in the Grand Teton and Glacier national Park as well as the surrounding Wilderness Areas.
He moved to Flagstaff and began hiking the Grand Canyon in 2002. He immediately fell in love with the Southwest. He has been a backcountry guide for the past 4 1/2 years hiking over 4000 miles below the Rim. His Southern hospitality and bad jokes keep people entertained and wanting to come back year after year.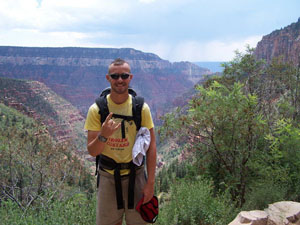 Jacob Wahler
Jacob Wahler is a long time resident of Grand Canyon and an avid hiker. He has been backpacking in the Grand Canyon since he was seven years old and continues to take many trips each year. He is a current National Registry EMT, was a Preventative Search and Rescue ranger for Grand Canyon National Park Service for 2 years and holds a certification as a Leave No Trace trainer. Jacob is currently attending Northern Arizona University and is pursuing a degree in parks and Recreation Management.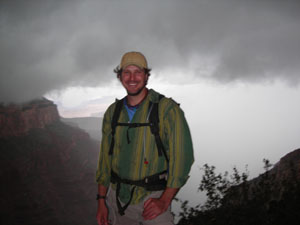 Michael Lowe
Mike Lowe moved to the Grand Canyon from Illinois in 1997. "I remember the drive from Flagstaff. From the San Francisco Peaks with towering Ponderosa Pines and bleach white Aspens, we drove down into the Pinon/ Juniper forest and then back up to the South Rim. Mather Point is where I saw it for the first time. I fell in love."
This "flatlander" has been hiking, swimming, and climbing his way through the Grand Canyon ever since. He admits, "I love to see their faces when they see it for the first time, because I know that feeling."
Tiffany James
Tiffany James is a Mississippi native who attended Mississippi State University. She graduated with a Bachelor of Science degree in Education with an emphasize in Fitness Management.
After graduating she moved to the West to explore the mountains. She has backpacked throughout The Grand Tetons, Glacier National Park and Western Montana. She moved to Flagstaff in 2002 where she fell in love with the scenery and native plants of the Southwest.
When she is not hiking in the Grand Canyon you can find her working at the Flagstaff Nordic Center or hiking around Northern Arizona with her dog Pace.
Kevin Daly
Kevin "Anasazi Feet" Daly's love for the outdoors started early fishing on the Farmington River near his home in Connecticut. This eventually spawned a move West to Arizona were he found hiking, rock climbing, and a love for the desert.
Shortly after arriving Kevin saw the importance of more knowledge and certified himself in CPR and as a Wilderness First Responder. He also currently holds a Red Card for fighting wildfires when needed.