Pygmy Guides Day Tours are the best there is. Pygmy Guides is company founded by Grand Canyon locals, who spent over a decade living in and exploring Grand Canyon National Park. We will take you to the most spectacular views and answer your questions with experience that can only be gained by living within this vast wonder. After picking you up in Flagstaff, Williams, Tusayan, or the South Rim, we will spend a full day exploring the Canyon.
Pygmy Guides will transport you in plush new SUVs or passenger vans for the entirety of your tour. Our group size is always less than 14 people to give everyone a more personalized experience. Apart from the Grand Canyon, the best thing about our day tours is the food. Our menu is prepared by a professional chef, and all drinks and food are included.
Our first canyon view will be near Bright Angel Lodge, where we will give everyone a chance to take in the awesome beauty of this Grand Canyon. Each stop we make will reveal more canyon secrets, with your guide close by to answer any questions you may have. Each of our guides possesses a vast knowledge of canyon geology, flora, fauna, history and prehistory to insure a fulfilling canyon experience. At each stop we make, not only will you appreciate vast panoramic views with the naked eye, but you will have the opportunity to peer deep inside the canyon with a little help from our telescope. This opens up the world of the inner canyon where one can observe the Colorado River, abandoned copper mines, ancient ruins, canyon trails, or maybe even a big horn sheep.
After lunch and some awesome canyon views, our tour will visit the Tusayan ruins and museum to learn about the Grand Canyon's first inhabitants, before we move onto historic Desert View Watch Tower. This replica of ancestral puebloan architecture was designed by Mary Jane Colter along with many other canyon structures. Inside the building you find not only historic native artwork, but one of the best views the Grand Canyon has to offer. Come with Pygmy Guides for a day tour or you may let a true Grand Canyon experience pass you by.
Top 10 reasons to tour with Pygmy Guides
Local Secrets
Ancient Ruins
Small Group Size
Gourmet Meals
Knowledgeable Medically Trained Guides
Inner Canyon Access Without Hiking VIA High-powered Telescopes
Amazing Grand Canyon Vistas
Hotel Pickup
Special Requests Welcome
All Park Service Fees Included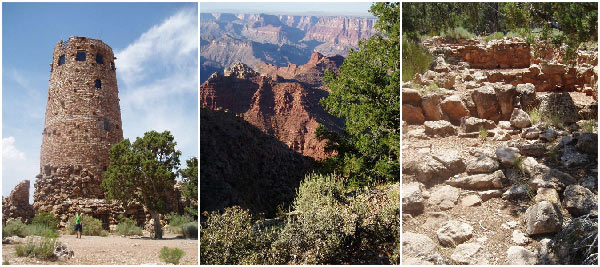 Prices & FAQs
Prices
Private Custom Guided Tours starting at $490 for 2 people. $70 Each additional person up to 7 clients.
Gratuity (8-15% suggested) and 7% AZ sales tax not included.
Group Size
We are limited to 14 people per vehicle including the guide/s. Larger groups please call to inquire.
Booking a Day Tour
Day tours can be booked from one day to one year in advance. All fees are due upon booking.
Cancellation Policy for Day Tours
Day Tours must be paid in full upon booking. Full refund with 48 hour cancellation notice. 50% refund on canceled Private trips.
Can I join an existing trip?
Anyone can join an existing trip if there are openings. You can also can also request a private trip; however, extra fees may apply (call to inquire about private trips).
Custom Trips
Call 877-2PYGMYS (877-279-4697), and we will build a trip to suit your request.
Guides
All of our guides posses a vast knowledge of all aspects of the Grand Canyon, along with medical training and a passion for what they do.
Physical Fitness
Our Day Tours do not require any special level of physical fitness. Please let us know of any health problems, allergies, or concerns in writing before your trip.
Special Needs
If you or your group have special needs, we will be glad to accommodate to the best of our abilities. Please call and inform Pygmy Guides of how we can make your dream trip a reality.
Transportation
We will pick you up in Flagstaff, Williams, Tusayan, South Rim hotel or campground. Other pickup arrangements can be made for an additional fee, please call to inquire.
When to Go?
Day tours are offered all year round.