Pygmy Guides of Flagstaff, Arizona specializes in offering backpacking trips to Yosemite National Park, the Grand Canyon and Havasu Falls.
Yosemite National Park, a famous backpacking destination, attracts hikers from around the world. The experienced guides at Pygmy Guides are ready to show you the beauty of Yosemite's hiking trails. Our Yosemite guided hiking and backpacking tours will treat you to some of the most spectacular scenery in the American West.
Our Yosemite hiking trips can fit any schedule. Short on time? No problem. Pygmy Guides has amazing Yosemite guided backpacking experiences ranging from two-day, one-night treks to Ostrander Lake and Chilnualna Falls up to six-day, five-night Yosemite hiking trips. Each trip can also be customized to give you more time at a specific feature – whether you want to see more lakes or wildlife, visit more meadows or explore the granite walls, your Yosemite guided hiking trip can be customized to your interests.
At Pygmy Guides, we take the hassle out of your backpacking trip, leaving you free to enjoy the exhilarating views of the Yosemite hiking trails. Whether you're interested in hiking and fishing, or taking wildlife photography and simply enjoying the majestic scenery, Pygmy Guides has the perfect Yosemite hiking getaway for you.
Our all-inclusive Yosemite guided backpacking trips are led by knowledgeable, trained guides who thoroughly understand the Yosemite National Park hiking trails. Our guides are medically trained to provide first aid in an emergency, and each of our experts offers personalized, attentive service, in addition to sharing their extensive experience as Yosemite, Grand Canyon and Havasu Falls trail guides.
Call us toll free at 877-2PYGMYS (877-279-4697) or 928-707-0215 to book your next Yosemite hiking trek. You can also email pygmyguides@pygmyguides.com to find out how Pygmy Guides can help you customize your perfect hiking vacation at Yosemite National Park.
1 Night / 2 Day Treks
For the travelers short on time, Yosemite does offer many wonderful options to spend a single night in the backcountry.
Ostrander Lake – This round trip loop hike takes you through sun soaked meadows, towering pines and glacier carved granite slabs. You can sleep under the stars or in a tent. either way you go it is better then any hotel room. Day 1 is 5.7 miles to the famous Ostrander Lake and hut. Day 2 6.2 miles back to the trailhead. Hike departs from Glacier Point Road. (Meet in Curry Village)
Chilnualna Falls – This 240ft waterfall is located above the Historic Wawona Lodge near the even more famous Mariposa Grove at the South Entrance. This trek is great for the active family and anyone looking to get away from the crowds. This hike begins day 1 with a 4.6 mile hike along the creek while climbing 2000+ft of elevation gain to an amazing campsite with sunset view and, of course, a waterfall. Who could ask for more? Day 2 Return as we came.(Meet at Wawona)
2 Night / 3 Day Treks
Upper Yosemite Falls down Snow Creek is an excellent 17 mile round trip loop.

Day 1 We hike up Yosemite Falls trail to camp at Yosemite Point overlooking the Merced River and all of Yosemite Valley.
Day 2 We will hike East through dense forest of liken covered sugar, lodge pole, and ponderosa pine crossing Lahamite Creek to have lunch below North Dome. From here we will hike along Indian Ridge to Snow Creek for 2nd nights camp. Directly across form Half Dome, the sunset here is not one to soon forget.
Day 3 We will descend the Snow Creek Trail 1500 feet to the valley floor. From here it is a short hike back to curry village. But not before a stop at Mirror Lake for a quick swim.(Meet Curry Village for a 15 minute bus ride to the legendary Camp 4 and start of our trek).

Half Dome from Little Yosemite Village Campground The famous Half Dome hike will depart Yosemite Village to spend 2 nights at Little Yosemite Village(LYV) Campground going in and out Happy Isles.

Day 1 We will start the day with a climb past Vernal Falls(317ft) and Nevada Falls(594ft) on our way to LYV. Today's hike is a total of 4.8miles and 2500ft elevation gain.
Day 2 HALF DOME!!!! An early start to beat the crowds is the best way to start this day. Leaving our basecamp we will hike/climb to the top of Half Dome. 6.8miles round trip and 2400ft elevation gain/loss.
Day 3 Hike back to the cars at Curry Village with a small side trek on the John Muir Trail(JMT).
Special Considerations From Sub Dome to Half Dome there is a 400ft long 1inch thick cable to assist you in pulling yourself up. There is a piece of wood every 10feet to further assist the climb and provide good places to rest. Not everyone can/will make it to the top. Know your limits.
3 Night / 4 Day Treks
Half Dome via Glacier Point- We will meet in the Valley at Yosemite Lodge at 8am. Shuttle bus to Glacier departs at 8:30am and will arrive just before lunch.

Day 1 We will set off on our hike along the Panoramic Trail to Illilouette Creek for our first nights camp. We will have hiked 4miles with less then 1000 feet of elevation loss.
Day 2 We will continue around Mount Starr King(9092ft) to Nevada Fall(954ft)s. From here we head to our 2nd and 3rd nights camp at Little Yosemite Valley Campground.
Day 3 Climb Half Dome(see Half Dome from LYV above)
Day 4 Hike out Happy Isles to Curry Village and a short bus ride back to our cars.

Chilnualna Falls Loop Hike. Will depart Wanona Lodge near Mariposa Grove and the South Entrance. This is the loop of the lakes. Visiting a half dozen lakes over the course for 4days and 29miles.

Day 1 This hike begins with a 4.6 mile hike along the creek while climbing 2000+ft of elevation to an amazing campsite with sunset view and, of course, a waterfall. Chilnualna Falls plunges 240 feet on its way to the valley's floor.
Day 2 We will hike through beautiful alpine forest passing some of the most scenic high Sierra lakes Yosemite has to offer. Grouse, Cresent, Johnson and Royal Arch Lakes are all great fishing/swimming holes. Today's distance is 8-10miles and roughly 2000ft elevation gain.
Day 3 We will continue the climb up to Beuna Vista Lake(the highest on this loop) for lunch and another excellent swimming hole. Making our way back around the loop passing the final lake Chilnualna Lake and camping along the creek above Chilnualna Falls again.
Day 4 Hike down the Chilnualna Falls trail and back the world of people and our cars.
5 Night / 6 Day Treks
Now we are talking guide favorites. What is better then hiking among Yosemite's cathedrals? The only thing is more!! More miles, more vistas, more summits, more meadows, more forest, more lakes, more waterfalls, more, more, more.
Tuolume>Little Yosemite Village Campground(LYV)>Happy Isle. Yosemite's high country is accessed via Tuolume Meadows. The bus leaves Curry Village at 8am and arrives in Tuolume at 11:30am.

Day 1 lunch at trailhead and then off we go on the historic John Muir Trail(JMT) down Lyell Canyon. Today is a pleasant 5mile hike with very little elevation gain. Today's highlights include a sunset with meadows and great views of the High Sierra's.
Day 2 We will start the day with a steep 4.3mile climb and 1700ft elevation gain to the crystal clear Lake Ireland where we will have lunch. After lunch we are only 3miles to Evelyn Lake and our second night's camp. 7.5 miles today.
Day 3 Shortly after leaving camp we will be passing through Vogelsang High Sierra Camp and Fletcher Lake before arriving at Emeric Lake. Lunch and some R@R, before we set off for Babcock Lake and night 3's camp. Another 6.5miles today.
Day 4 Making our way toward Merced Lake and then on to LYV makes day 4 a long one. This 12miles stretch meanders down majestic Echo Valley on the way to night 4's camp. If this distance proves to much we can stop at Moraine Dome just outside LYV. Not a bad thing, as there are far less people and a great swimming hole below Moraine Dome.
Day 5 Heading up Half Dome and back to LYV for our final night.
Day 6 Hike out the Happy Isles trail.
Welcome to Pygmy Guides Yosemite National Park information page. With over 1200+ miles of trails Yosemite is a world class backpacking destination. Towering granite walls and trees so big you would swear you are in a fairytale are just a couple of things Yosemite is known for. Photographing wildlife such as beer, deer and marmots are an everyday occurrence in this vast wilderness located in Northern California's Sierra Nevada Mountain Range.
Some have called it the birthplace of "America's greatest idea". This is where the national park idea really took root. With an impromptu 3 day excursion to Glacier Point by then President Teddy Roosevelt and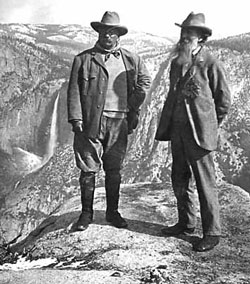 guide/naturalist John Muir, an idea of conservation took root. Combining the 1864 state grant lands and the 1890 national park lands and signed into law by Roosevelt in 1906, Yosemite was born.
All hikes can be lengthened to include more meadows, lakes, wildlife encounters, time for reflection, and massive Granite walls. Add a day and you will not regret it. I have always enjoyed hikes with a layover day. A layover day is one day during the trek that we do not need to move camp or make miles allowing more time for wanderings, exploration and relaxation. I have found my adventure vacations are the most rewarding when I have allowed a little time to "smell the flowers". Also if you plan to fish, it is best to add an extra day.
"I have seen persons of emotional temperament stand with tearful eyes, spellbound and dumb with awe, as they got their first view of the Valley from Inspiration Point, overwhelmed in the sudden presence of the unspeakable, stupendous grandeur."
– Galen Clark, guardian of the Yosemite Grant.