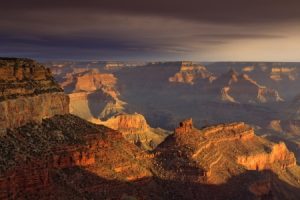 Interested in learning more about the fascinating history of Grand Canyon National Park? Thanks to a joint effort between Arizona State University, Northern Arizona University and the National Park Service, you can now view thousands of historical photographs, correspondences, maps and other ephemera from Grand Canyon National Park for the first time ever.
This remarkable project, called 100 Years of Grand, was designed to commemorate the upcoming centennial of the creation of Grand Canyon National park in 1919. The archive chronicles the early history of the park with a diverse assortment of materials that date as far back as 1882.
"Materials made accessible through this project will be of benefit to visitors to the park who may want to enhance their experience and historical understanding of the Grand Canyon," said ASU archivist and project director Rob Spindler in an interview. "Many of the materials in the digital repositories have rarely been seen since they were created. These amazing artifacts tell a bigger story about Grand Canyon National Park.
A number of the early photographs in the archive are particularly captivating. You can see Theodore Roosevelt's presidential train arriving at the canyon in 1903, for example, or see the Navajo Bridge soon after it was constructed in 1927. These images open a window into another era of the Grand Canyon's history that few people have been able to witness until now. Other items in the archive include tourism brochures and a photocopy of the original bill that established Grand Canyon National Park in Arizona.
Ready to experience your own piece of Grand Canyon history? Give us a call or contact us online to book your next canyon adventure with the team at Pygmy Guides today!